How to get healthier with organic coconut oil?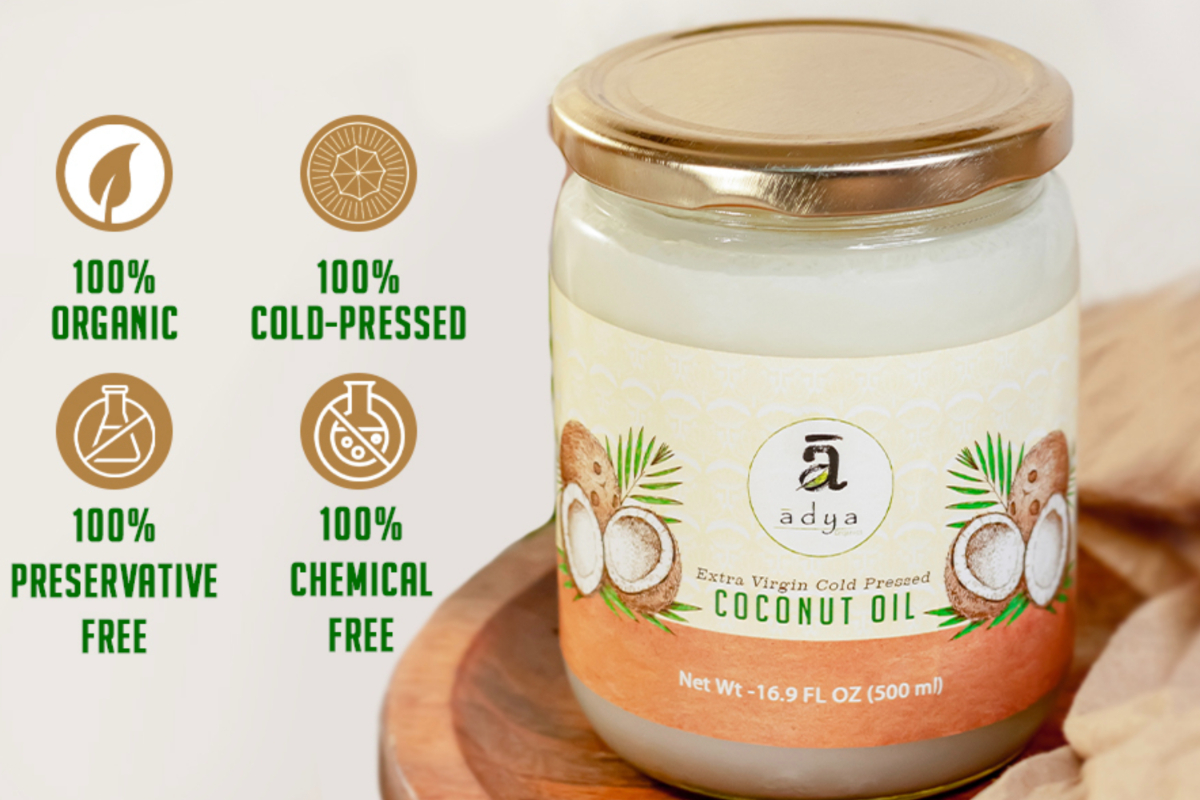 A lot of skincare product fads have come and gone. But what has remained a pantry staple is coconut oil. In fact, coconut oil has been a part of our lives for at least 4,000 years. It is an integral part of Ayurveda, our traditional medicine system and has been used for its amazing health and edible benefits.
Traditional coconut oil has now given way to organic oil, which is even more beneficial for your health. 
Continue reading to know more about this unique ingredient and how it can transform your health. In this blog, you will also learn about how to choose the best-quality organic coconut oil.   
Why is organic coconut oil important for your health?
Also known as virgin coconut oil or unrefined coconut oil, organic coconut oil is extracted directly from fresh coconut meat instead of dried coconut kernels. It is obtained through a cold-pressing process and is unprocessed and unbleached. 
Here are some great benefits of coconut oil that you should know about:
Makes your heart stronger
According to a Harvard Medical School study, organic coconut oil contains 90 percent saturated fats. These saturated fats are high in medium-chain triglycerides, which help raise your HDL (high-density lipoprotein) cholesterol levels. 
Known as 'good' cholesterol, HDL removes other types of cholesterol from your blood and lowers your risk of heart disease. 
Helps control overeating
As verified by a cross-sectional study on prevalence of obesity in India, there are close to 135 million obese people in our country. Being overweight is much more than an aesthetic problem. It leads to serious health risks such as sleep apnea, heart disease, high blood pressure, type-2 diabetes, and the likes. 
Organic coconut oil contains naturally occurring MCTs (medium-chain triglycerides), which make your metabolism faster by reducing the fat deposits in your body leading to weight loss in the long run. 
These MCTs also help you feel satiated. When you feel fuller for longer, you naturally stop binging between meals. This leads to a calorie deficit and ultimately weight loss. 
Has antimicrobial properties
Microbes can cause serious health hazards including urinary tract infections, mouth ulcers, eczema, and food poisoning. Harmful bacteria may also lead to liver and kidney diseases. 
Organic coconut oil is abundant in lauric acid, which is a major component of MCTs present in it. Lauric acid is a fatty acid that acts as an antibacterial agent. It does not just prevent bacteria from multiplying but also destroys some bacteria. 
Improves your oral health
Consuming too many sugary drinks and foods and not following proper oral hygiene practices may lead to oral health problems. These may include dental caries, bad breath, and gum disease. 
When used as a mouthwash or during oil-pulling, the lauric acid in organic coconut oil reacts with the alkalis in your mouth. It converts the alkalis into sodium laureate, which prevents the accumulation of plaque on your teeth and gums. It also fights against the harmful Streptococcus mutans and Candida albicans bacteria preventing oral health problems. 
Is a great moisturizer for your skin
Exposure to heat for long periods, using harsh chemicals, aging, and some medical conditions may make your skin stretched and dehydrated. Dry skin not just looks rough and uneven, but it may also be prone to rashes, cracks, and even eczema in serious cases. 
Organic coconut oil is made up of saturated fats. These fats, by trapping the moisture in your skin, act as an excellent moisturizer. It hydrates your skin, making it look more even. It also helps heal painful cracked heels in winter.  
No wonder coconut oil is used in a range of skincare products! All you need to do is apply it on your dry hands, lips, and feet and allow it to get soaked in. Remember not to use this oil on any acne-prone areas of your skin. 
Makes your hair healthier
Who doesn't love a thick and glossy crop of hair? However, living in dry-weather places, undergoing chemical-based treatments, and washing the hair too frequently may strip your hair of its natural moisture and make them brittle and dry.
One of the most important benefits of organic coconut oil is that it helps hydrate your hair. It gets absorbed in your scalp quickly and prevents breakage, reduces split ends, and controls frizziness. 
Gently massage coconut oil into your scalp and apply it from your roots to tips and see your hair look shiny and healthy. 
How to choose the best organic coconut oil?
You can expect to gain all these amazing health benefits of organic coconut oil only if you purchase the right one. With supermarkets overflowing with brands of coconut oil, making a choice may get overwhelming. 
You needn't worry. We have got you covered. 
Here are some things to know before purchasing organic coconut oil:
   

It should be unrefined, cold-pressed, and extra-virgin. This helps you get oil with preserved nutrients.

   

The oil must be free of bleach, chemicals, and preservatives. 

   

Make sure that it is certified

   

The coconut oil that you buy must be food-grade.
Conclusion
The organic coconut oil from Adya Organics ticks all these boxes. Extracted from the purest Copra oil, this oil is 100 percent natural and doesn't contain any adulterants. We are also recommended by Luke Coutinho, award-winning holistic nutrition and integrative lifestyle medicine expert for making sustainable products. Get in touch today to buy your jar of goodness and health.