Product Description of Multigrain Flour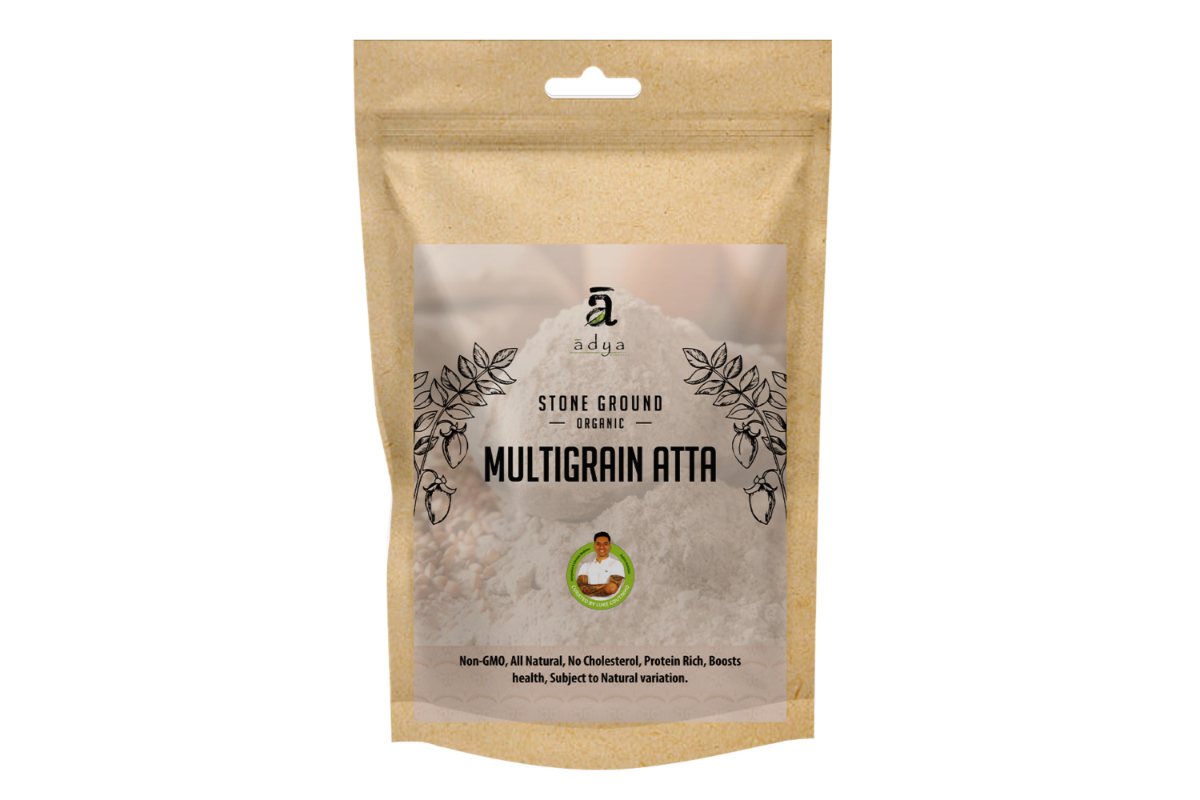 Multigrain Flour, in general, is made from two or more varieties of grains. Adya Organics Multigrain flour contains some of the most nutritive, protein-filled millets that are more healthy, wholesome, and fiber-rich than regular wheat.
Adya Organics Multigrain flour is a combination of organically grown and stone-ground grains. We skip the commercial methods of food processing in favor of traditional, time-tested methods of stone-grinding to retain the nutrient value of each grain profile. When you buy Adya Organics Multigrain flour, you know what goes into making your flour, since we always use fresh, unprocessed, preservative-free, and packed with natural ingredients.
We use wheat and maida for our everyday cooking, and multigrain flour is a healthier and safer alternative to wheat and maida. The nutritional profile of each grain enhances the overall vitamin, mineral, protein, and fiber content. Moreover, ragi, moong, and sesame add to the aroma and flavor quotient.
The blend multigrain flour has higher concentrations of Vit B2 and B6 – the antioxidants that fight free radicals and cell damage. Being a rich repository of iron, magnesium, and fiber, multigrain flour helps improve blood formation, muscle and nerve health and gives you the energy boost your body requires.
Adya Organics Multigrain flour comes highly recommended by the admired wellness coach Luke Coutinho. He advises regular intake of a variety of grains, as it is proven to help manage weight gain, tone the body, and improve immunity. The nutrients in the multigrain flour are ideal for growing children, as it satisfies their everyday nourishment needs. Moreover, the low glycemic grains are perfect for the older population as it helps manage their blood sugar levels excellently.
Pure, organic, and natural – our Multigrain Flour is the powerhouse of nutrients and an excellent healthful addition to your daily diet. Explore Adya Organics' wide range of made-with-love organic products.
About the Product
Adya Organics Multigrain flour is a nutrition powerhouse combining the goodness of several health-giving grains.
Loaded with protein, fiber, and vitamins – an excellent addition to a balanced diet.
Packed with Ragi (Finger Millet) Moong (Mung Bean) Bajra (Pearl Millet) Jau (Barley) Sama (Little Millet) Chana (Chickpea) and White Sesame.
The multigrain flour gives an instant and sustained energy boost – keeping you satiated for a long time.
Higher nutritional content than regular wheat or maida – a healthier alternative for store-bought processed wheat.
Rich in fiber content – boosts digestion, relieves stomach ailments, and boosts metabolism.
The nutritional advantage of different grains packed in a single product.
Richer taste, subtle aroma, and silky-smooth texture with the promise of well-blended grains.
The low glycemic index in the multigrain flour makes it ideally suited for the diabetic population.
The low carbohydrates and significantly lower cholesterol levels help keep your blood sugar and blood pressure levels in control.