Flavor-Bursting Infusions For a Rejuvenated Body, Mind and Soul!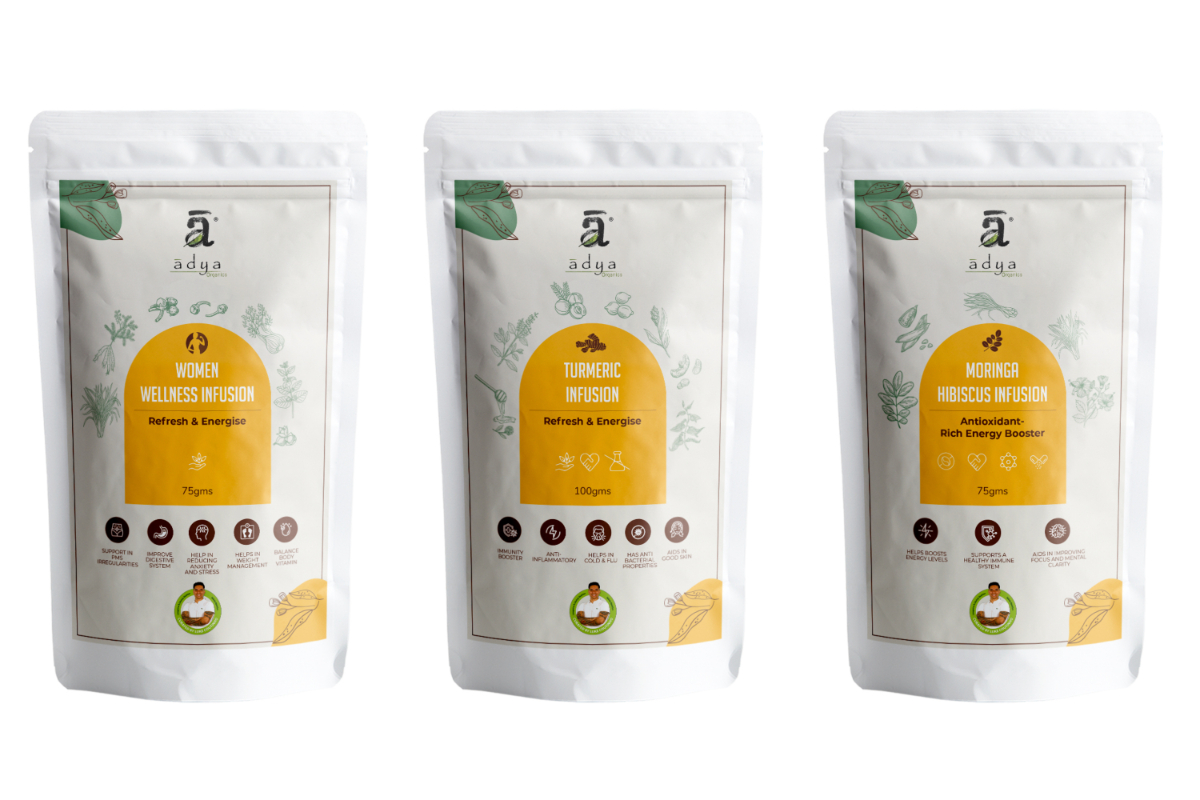 Consuming tea is an almost religious practice in many households. Some of us simply cannot get on with our days without the good ol' tea. But what if we told you there is a way to transform the humble tea into a flavor-bursting, sometimes-fruity-sometimes-herbal concoction of imaginative tastes, colors, and aroma? Presenting to you Adya Organics' range of Infusions. Since there is always confusion regarding infusions, we thought we'd clear that up with this article. Let's dive in.
What is an Infusion?
Infusions have a base tea – either black or green – that is infused with the essence of a flower, herb, or leaf which adds flavor, aroma, and color and boosts the health benefits of the tea. If you are new to tea infusions, we suggest picking out any one or more flavors from Adya Organics. They have provided step-by-step instructions for infusing excellent flavors, aroma, color, and more into your regular tea. The infusion process, in general, involves: Step 1: Place the infusion in a cup. Step 2: Add boiling water to the cup Step 3: Allow the infusion to steep for 3 – 5 minutes Step 4: Add sweetener – preferably honey or date palm jaggery Step 5: Voila! Your flavor-enriched tea is ready to enjoy!
Why Wellness Expert Luke Coutinho Recommends Adya Organics Infusions
One of the main reasons why the popular wellness expert Luke Coutinho recommends Adya Organics infusions is because they are 100% naturally derived ingredients, untouched by preservatives or artificial taste enhancers. Moreover, these infusions are wonderfully versatile, meaning with a slight alteration in the temperature or steeping time, you can explore a wide range of flavor profiles.
● Himalayan Rejuvenating infusion
Sourced straight from the foothills of the pristine Himalayan mountains, the Himalayan Rejuvenating Infusion is rich in Tulsi, Punarnava, Amla, and Shatavari. The bitter-sweet taste of this naturally blended herbal tea and the deep greenish-yellow hue makes this tea one of the most powerful health concoctions you need. The high concentrations of nutrients and antioxidants manage weight loss by helping lose fats and detoxify the body. Steeping Tulsi, Amla, and Punarnava, you'll be able to extract more flavonoids, nutrients, and vitamins. The anti-bacterial and anti-inflammatory properties of Tulsi make this infusion the perfect decoction to treat common colds, allergies, and stomach ulcers and prevent digestive disorders.
● Himalayan Nettle herbal infusion
Himalayan Nettle Herbal Infusion is an eclectic combination of Nettle, Rosemary, Ginger, Honey, and Black Pepper. This calming, earthy, and honey-hued Himalayan Nettle tea is the perfect harmony of taste, aroma, and health. Stinging Nettle is known to pack in copious amounts of micronutrients, vitamins, and minerals, that help deal with muscle pain, irritable bowels, and bone conditions. It is also found to have a positive impact on lowering blood pressure and improving cardiovascular health. The presence of Rosemary gives this herbal infusion a very subtle floral taste and aroma. It also boosts memory, alertness, and cognitive performance.
● Mind Rich infusion
Hand-picked herbs from the foothills of snow-capped Himalayas, the Mind Rich Infusion has Brahmi, Ashwagandha, Gotu Kola, Chamomile, and Sage. Chamomile and sage are some of the most powerfully zesty infusions – the aroma and flavors are so enticing, you'll end up reaching out to this infusion often. It is loaded with anti-inflammatory properties and antioxidant benefits. Brahmi is an immunity-boosting agent that also doubles up as a stress buster and detoxifier. Ashwagandha, an Ayurvedic-approved ingredient, fights mental fatigue and helps you get a good night's sleep after a stressed-out day.
● Moringa Hibiscus infusion
The Moringa Hibiscus infusion teas register the floral character thanks to the presence of high-quality organically sourced hibiscus. The presence of Moringa in the infusion registers a high nutrient and vitamin value with 7 times more vitamin C than oranges and 15 times more potassium than bananas. These vitamins, calcium, potassium, and amino acids, in addition to the rich concentrations of iron, make this the perfect tea for healing your body. Lemongrass and Hibiscus in the infusion add a floral flavor to the tea. Additionally, these extracts are known for their anti-inflammatory and immunity-building properties.
● Turmeric infusion
A colorful infusion, if ever there was one, is turmeric infusion with its enchantingly attractive yellow hue. The infusion contains Turmeric or Curcuma Longa, Black pepper, Honey, Holy Basil, and Indian Gooseberry. Each ingredient takes the flavor quotient of this tea many notches higher, and the color is just a ray of morning sunshine. Low in calories, high in nutrients, and immunity-boosting antioxidants, the turmeric-infused tea is the best tea to wake up to. Holy Basil helps you get rid of free radicals by giving your body the deep cleanse it needs and helps you defy aging. Vitamin-C-rich Indian Gooseberry brightens your skin, nourishes your hair, and purifies your blood.
● Women wellness infusion
Exclusively made to cater to women's health, the Women Wellness infusion is a delightful blend of flavor, flowers, and aroma. This vibrancy-restoring infusion has a refreshing floral taste and subtle color – perfect to energize your body, mind, and soul. Blended with Lemongrass, Ashwagandha, Clove, Fennel, Moringa, and Shatavari, the Women's Wellness infusion has everything that women want in their tea. The essence of the herbs seeped into the tea gives it a unique, rejuvenating taste, and the zesty aroma boosts sore muscles and mind. Ashwagandha, a known adaptogen, helps women cope with stress and anxiety. The flavourful lemongrass balances body-vitamin levels and eases PMS irregularities. Most importantly, to make the best infusion tea, you need perfectly balanced ingredients. We suggest Adya Organics for their grab-worthy infusions that register a flavor high in every sip. Moreover, they have a selection of 6 different flavors and perfectly put-together ingredients catering to every taste bud and flavor profile. Buy Adya Organics from our wellness platform and rejuvenate your body, mind, and soul with every cup