Date Palm Jaggery: A Perfect Substitute to Refined Sugar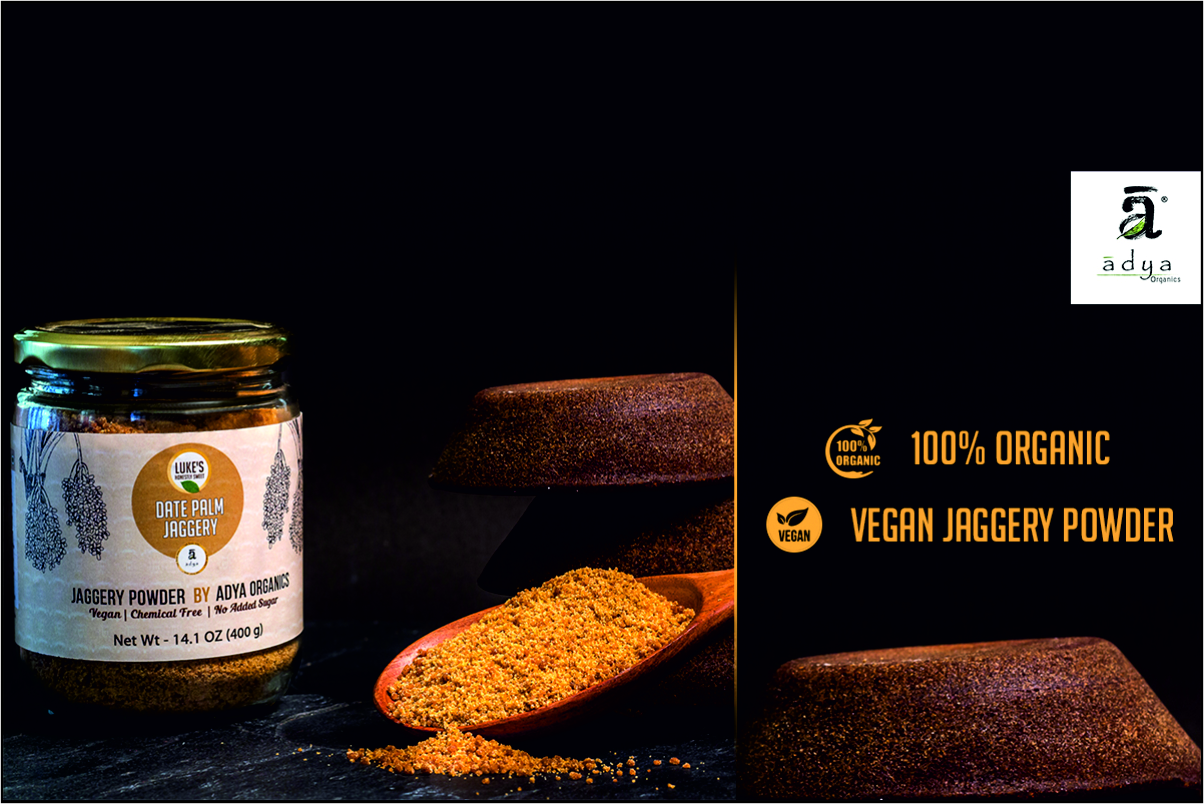 Over the years, and especially post-COVID-19, our food choices and lifestyle have shifted drastically, making us switch to healthier options. This shift nevertheless, has been a hassle for many as there is a popular opinion that healthier options are rare, expensive and often compromises on taste. Cutting down on trans-fat, refined sugar products are some of the major diet change advice given by almost every dietician around the globe. But is it really necessary to go sugar free completely for a healthier life? Do we have to really give up on all the delicious delicacies made of sugar? Hmm… sounds sad right? Well, don't worry, because we have something in store for you. What if we tell you there is an alternative to this? An alternative that is both healthy and tasty. You heard it right! Adya Organics brings to you Date Palm Jaggery, which is the best sugar replacement found till date. Let's embark on this journey of a healthier you and know more about Date Palm Jaggery.
What is Date Palm Jaggery?
Date palm jaggery (or Khajur Gur) is extracted from freshly concentrated juice obtained from date palm trees naturally and is loaded with vitamins and minerals. It enhances taste of many delicacies and contains no chemicals or artificial ingredients. Date palm jaggery is extremely beneficial when consumed in winters as it keeps your body warm during chilly winters.
Benefits of Date Palm Jaggery:
NUTRITIOUS: Jaggery is considered as a storehouse of nutrients. When ingested properly, date palm jaggery boosts haemoglobin and treats anaemia.
PERFORMS INTERNAL BODY CLEANSING: It is also rich in vitamins and minerals. It helps in removing body toxins from the respiratory tracts, stomach, lungs and intestines, leaving you healthy.
SKIN NOURISHMENT: Since it is nutrient-dense, it not just improves your skin texture but also prevents pimples, wrinkles and acne resulting in radiant skin.
DIGESTION IMPROVEMENT: Jaggery serves as a good digestive agent. It is said that people who take a little jaggery in their meals never suffer from digestive ailments because Jaggery improves digestion. As jaggery improves digestion, it keeps constipation at bay. Jaggery contains a good amount of fibre. Fibre in jaggery ensures regular bowel movements and caters to all the problems related to digestion.
BOOSTS ENERGY: Consuming jaggery on daily basis releases energy making you more active and energized throughout the day.
BENEFICIAL IN PREGNANCY: It is rich in anti-oxidants. Jaggery not only inhibits cell damage and DNA degradation but also neutralises free radical activity. Jaggery protects the foetus from harmful health impacts during pregnancy and is often included in the diet of pregnant mothers in the seventh month of pregnancy.
AIDS IN REDUCING WEIGHT: Being a potassium supplier, it helps maintaining electrolytic balance and reduces water retention, all of which impacts significantly to weight loss.
DEALS WITH COUGH AND COLD: Adding jaggery to warm water or tea, helps in combating the symptoms of cold-related issues.
So, what are you waiting for? Make a switch to a healthy lifestyle with Adya Organics Date Palm Jaggery. As it is rightly said that a healthy mind lives in a healthy body.