Everything you need to know about Superfood Mustard Oil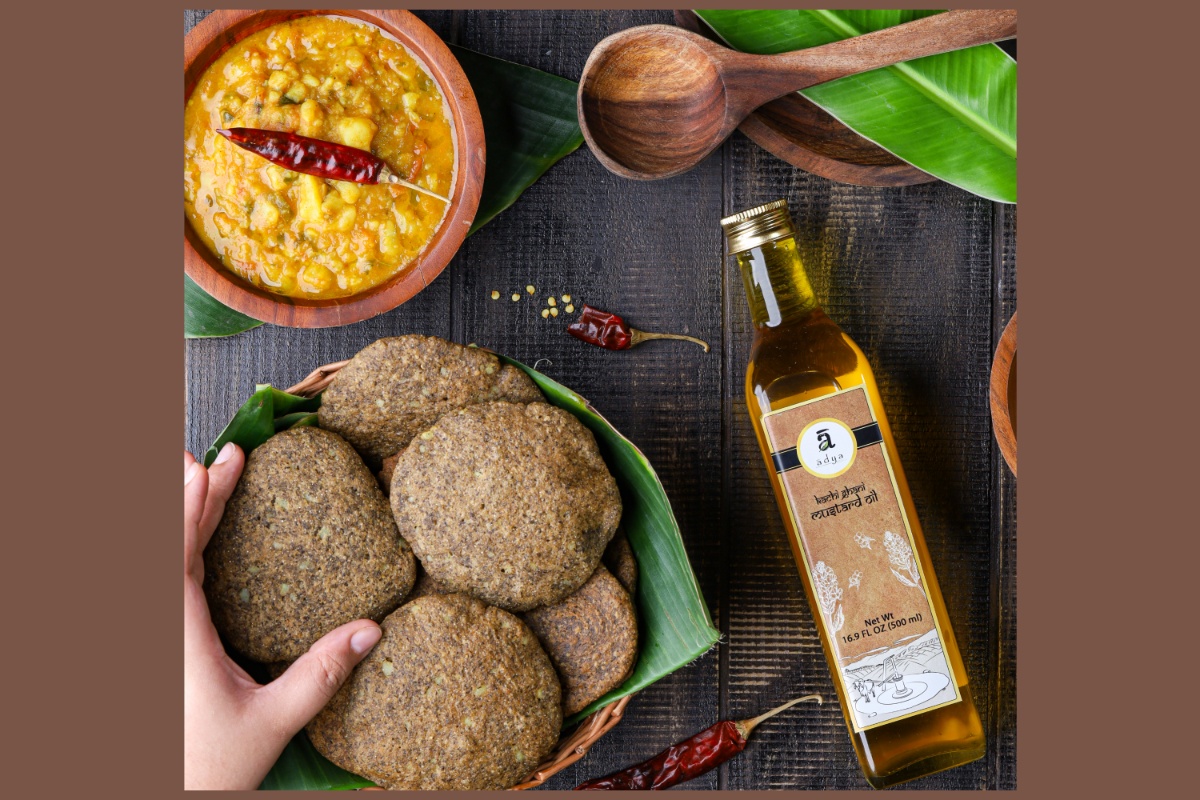 The pungent peppery taste of mustard oil and how it adds a unique warmth and stingy spiciness to the dishes makes it one of the most popular cooking oils. Be it your curries, snacks, or pickles, just a whiff of this flavourful oil is enough to delight anyone.
The oil is extracted from the tiny and round seeds of the mustard plant. While these seeds are of different colors, black and yellow seeds are most commonly used to make oil.
It's time you get to know these two superfood oils better and how they impact your health. This blog talks about important differences between these two kinds of mustard oils, how to choose the best-quality oil for yourself, and interesting ways to include them in your diet.
Yellow and black mustard seeds- How are they different?
Before we talk about the difference between yellow and black mustard oils, let's look at the origin of these oils- their seeds.
Yellow mustard seeds (Brassica hirta) are indigenous to Southern Europe. Black mustard seeds (Brassica nigra) come from the Southern Mediterranean region.
How is yellow mustard oil different from black mustard oil?
Now that you know the difference between yellow and black mustard seeds, let's take a better look at the oils extracted from them.
Color
Yellow mustard oil is pale yellow or light golden.
Black mustard oil is of a darker hue that looks like dark brown or almost black.
Flavor
Yellow mustard oil is known for its milder flavor. Some people even find its taste tangy. Yellow mustard oil works best when you don't want your food to be hot but smoother in taste. They give you the unique taste of mustard but without the bite.
Black mustard oil has a more pungent flavor that packs quite a punch. Some people describe its taste as 'hot' and even 'stingy'.
Uses
Yellow mustard oil, because of its flavor, is commonly used for:
Stir-frying or sautéing vegetables
Frying spices for tempering
Deep-frying things like chicken and fish
Adding to honey, mayonnaise, or vinegar to make homemade dressing
Lending a unique taste to sandwiches and hot dogs
Black mustard oil is most commonly used for:
Cooking gravies and curries
Deep-frying meats and vegetables
Pickling vegetables and fruits
Nutrition
Now that you know the differences between yellow and black mustard oil, let's look at the nutritional profile of these oils and their health benefits.
According to the Journal of Dairying, Foods, and Home Sciences, 100 grams of mustard oil contains:
Calories: 884
Saturated fats: 5-12 grams
Selenium: 9.96 mg
Magnesium: 49 mg
Protein: 1.88 grams
Vitamin E: 34 mg
Vitamin A: 3%
Vitamin C: 5%
Calcium: 38.92 mg
Potassium: 151 mg
Zinc: 0.44 mg
Dietary fiber: 1.08 mg
Besides this, mustard oil also contains:
Around 60% monounsaturated fatty acids, 12% oleic acid, and 42% erucic acid.
21% Polyunsaturated fats, 6% omega-3 alpha linolenic acid, and 15% omega-6 linolenic acid.
12% saturated fats
Why should you consider including mustard oil in your diet?
Mustard oil is known to have tremendous health benefits. From preventing chronic conditions to reducing inflammation and even treating joint pain, the humble mustard oil keeps you healthy and rejuvenated.
Here are some great reasons to start using mustard oil:
Betters your digestion
Mustard oil is rich in linolenic acid, which helps the release of digestive juices. This aids digestion and stimulates your appetite and keeps your digestive system robust.
Keeps your heart healthier
Rich in niacin, mustard oil helps regulate your blood cholesterol levels and reduces triglycerides. It is also rich in monounsaturated and polyunsaturated fats, which reduce the levels of LDL and improve your heart health.
Fights fatigue
The presence of omega-3 fatty acids in mustard oil helps ease joint pain and stiffness. Regularly massaging your joints with this oil helps you stay active for a longer time.
Reduces cancer risk
Abundant in linolenic acid, regular consumption of mustard oil helps reduce the risk of cancers of the colon and stomach.
Keeps infections away
Mustard oil has antiviral, antifungal, and antibacterial properties, which help you fight infections and inflammation. It prevents the growth of bacterial infections, especially on your scalp and skin.
Keeps your hair and skin beautiful
When applied topically, mustard oil works wonders for dry hair and skin. It keeps your skin nourished and prevents signs of premature aging such as sagging skin, wrinkles, and fine lines. It also treats cracked heels. Loaded with proteins, beta-carotene, and iron, it helps in promoting hair growth.
How can you gain the benefits of mustard oil?
These health benefits of mustard oil can be gained only when you buy good quality oil, which is safe and healthy for you.
Adya Organics offers 100% organic yellow and black mustard oil, which is:
Extracted from the seeds using the traditional 'kohlu' method to retain their original taste and nutrition.
Free of all the nasties- toxins, preservatives, chemicals, artificial colors, and fragrance.
Made from finest-quality seeds sourced directly from farmers through sustainable practices.
Conclusion
Mustard oil not just lends your dishes a tasty edge, but also keeps you free of diseases. Regular consumption of this oil helps you fight lifestyle diseases and lets you lead a stress-free and happier life. Adya Organics offers yellow mustard oil and black mustard oil in convenient sizes, perfect for your kitchen. Get in touch with us to know more about our mustard oil and range of other natural and organic products.