Organic Farming is Beneficial for Farmers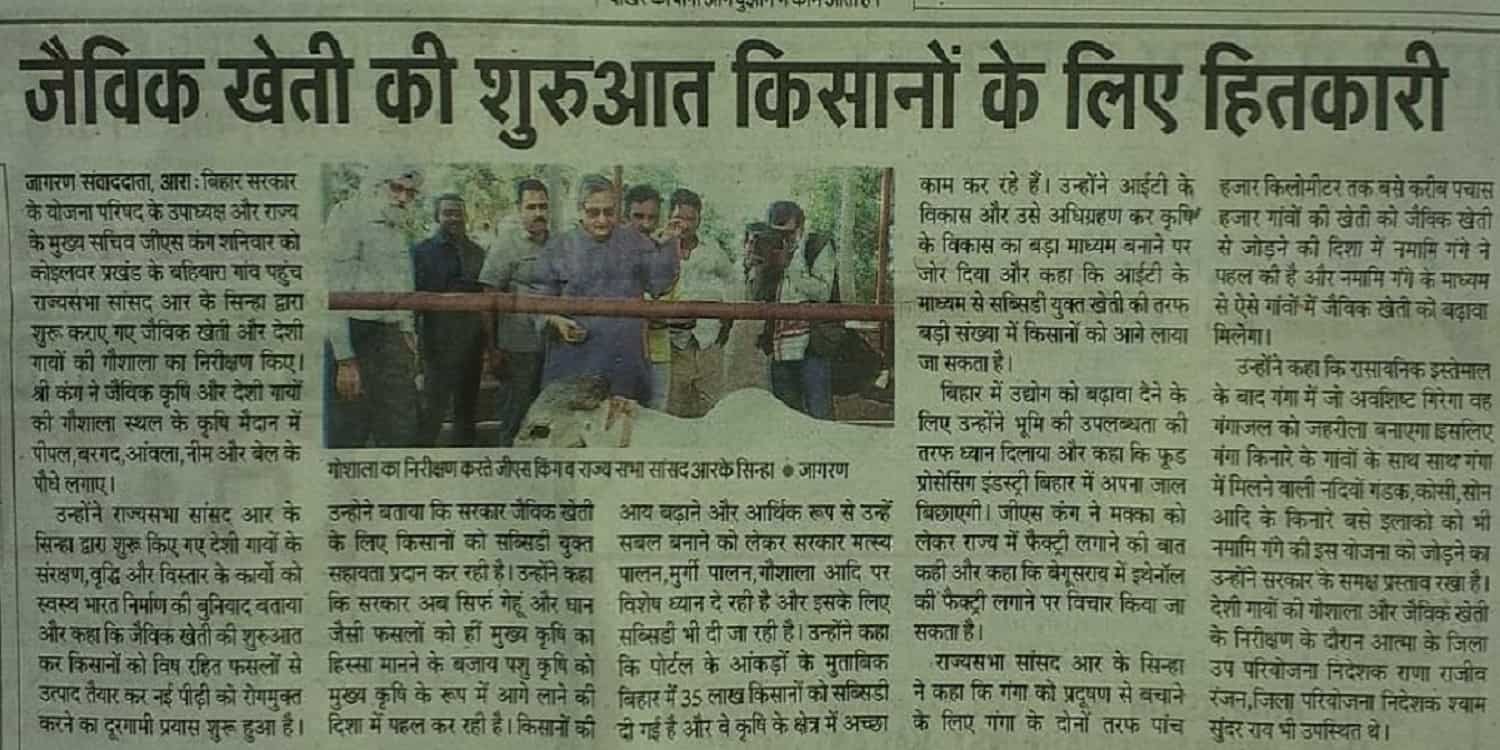 Summarization of Printed Article
Bihar government's Vice President of Planning Council and Chief Minister Shri G S Kang, visited the organic farming and local cows' ranch (Gaushala) an initiative started by Rajya Sabha's Member Shri R K Sinha, in Koyilvar district's Bahiyara village on Saturday.He recognized Rajya Sabha's Member Shri R K Sinha's initiative for protecting local cows their health, growth and progress as pillars of Healthy India initiative and stated that, farmers have commenced a long-term effort to relieve the future generation of diseases by starting organic farming to provision crops free of pesticides, chemicals and synthetic fertilizers.
He stated that, the government is providing help, inclusive of subsidy to the farmers for organic farming. He stated that, instead of just considering crops such as, wheat and grains, as main agricultural crops, government is taking initiative to also consider animal farming as important.
Rajya Sabha's Member Shri R K Sinha stated that, to protect Ganga from pollution, Namami Gange (Ganga Conservation mission) has an initiative to convert the farms of approximately fifty thousand villages, established on both sides of Ganga spanning up to five thousand kilometers, in to organic farms; and thereby, organic farming will get a boost through the medium of Namami Gange. He also pointed out that, the residues and effluents from the use of pesticides, chemicals and synthetic fertilizers will pollute the waters of Ganga, therefore, he has presented a proposal before the government that, along with inclusion of villages on the shores of Ganga, establishments on the shores of rivers such as Gandak, Kosi, Son, etc. which are merging in to Ganga should also be included in Namami Gange's mission plan.
Aatma District Project Director, Shri Shyam Sunder Rao and District Deputy Project Director, Shri Rana Rajiv Ranjan and were also present during the observation of local cows' ranch and organic farming.