All That You Should Know About Date Palm Jaggery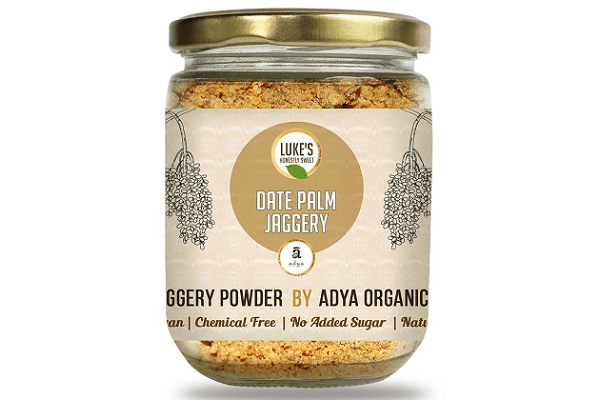 Date palm jaggery, made from the sap of naturally grown date palm tree, is nutritious and extremely beneficial to the body. With a plethora of nutrients and benefits associated with its consumption, a lot of people suggest you should use this form of jaggery as a sweetener as against the others.
As a much-needed alternative to white sugar, and a healthier sweetening element, you should ideally consume more of this during the winters.
Here, we will discuss the benefits of date palm jaggery and talk about how we produce and preserve this organic superfood at Adya.
Benefits of Date Palm Jaggery
#1 It is a powerhouse of nutrients
Palm jaggery is a powerhouse of all the necessary vitamins and minerals. It has 60 times more minerals when compared to white sugar, which makes it a healthy choice for your diet. You can go with naturally grown jaggery as your milk and tea sweetener, instead of white sugar.
Iron found in this jaggery can help increase haemoglobin levels in the body. It helps your body stay away from anaemia. Magnesium is also found in a good amount, which helps balance the nervous system. Apart from these two minerals, it is also rich in calcium, potassium and phosphorus.
#2 Is an excellent digestive agent
It is not only an excellent energy booster but also acts as a good digestive agent. The high composition of carbohydrates in the jaggery helps in breaking down the food and improves your digestion abilities. Carbohydrates also tend to boost energy, which helps you stay fresh for hours. So, if you are feeling tired or your body seems to be losing its energy, then you should consume this food.
#3 Helps tackle constipation
Due to the adulterated forms of food or other metabolism and related issues, constipation seems to be on a rise. If you don't want to try the medicines or venture into other ways of relieving constipation, then you can turn to palm jaggery. It helps relieve constipation, and regular consumption can ensure you don't have to deal with it.
It helps with regular bowel movement and handles all the digestion related disorders. The reason for jaggery working like a miracle can be attributed to the presence of fibre in this superfood.
#4 Helps with migraine and other ailments
For those who are suffering from migraine, jaggery works like a miracle. You should ideally add a teaspoon of jaggery into your food to make sure you don't suffer a migraine attack or, you can handle the migraine.
Apart from migraine, the superfood also happens to be a medicinal cure for a lot of ailments including dry cough, cold and asthma.
#5 It promotes weight loss
Date palm jaggery contains potassium, which helps you manage the electrolytic balance in the body by reducing the water retention. this retention is majorly responsible for weight gain. It also reduces bloating, which causes an increase in body weight.
#6 Effective with menstrual cramps
If menstruation is a bad time for you, as you experience real bad cramps, then you should ideally include date palm jaggery during this period. It will help relieve the cramps and prepare your body to relax during this period.
With such amazing benefits, date palm jaggery is a must in your food.
At Adya Organics, we tend to make organic date palm jaggery, which is good for your body, and must-have in your kitchen.
Production & Preservation Techniques We Follow
We have a unique yet simple way of producing organic date palm jaggery. We swear by this method, as we believe it helps us follow the best practices of organic methods, and ensures good produce.
We collect the sap produced by the date palm trees in the early hours of the morning to prepare the jaggery. We usually collect the sap from the palm trees grown in the jungle.
Once the sap is obtained, we heat them on cow dung cakes generally. In some cases, we even use logs or dried leaves or twigs to create the fire.
Once we are done with the process, we sun dry the sap and grind it uses a traditional stone, known as 'sil batta'.
The organic powdered jaggery is then sold by us in the markets.
Why do we follow this process?
We aim to empower the women producing organic jaggery
Apart from this, we aim to create a sustainable and organic farming method that can improve the quality of the produce, and help farmers connect with the communities, thus increasing profits for the farmers
We bring farm produce directly to the markets, with no middlemen, thus ensuring quality and price.
We believe that preservation of the organic jaggery is one thing that most people aim to know. We ask our customers to store the jaggery in airtight containers and keep it in the fridge during the summers.
Summing Up
A lot of people are making the move from white sugar and other artificial sweeteners to naturally grown organic sweeteners such as date palm jaggery. This healthy move will not only improve body functions but also protect the body against rising diseases such as cancer. At Adya Organics, we understand the importance of naturally grown produce and help to deliver quality by keeping our processes transparent.
All That You Should Know About Date Palm Jaggery