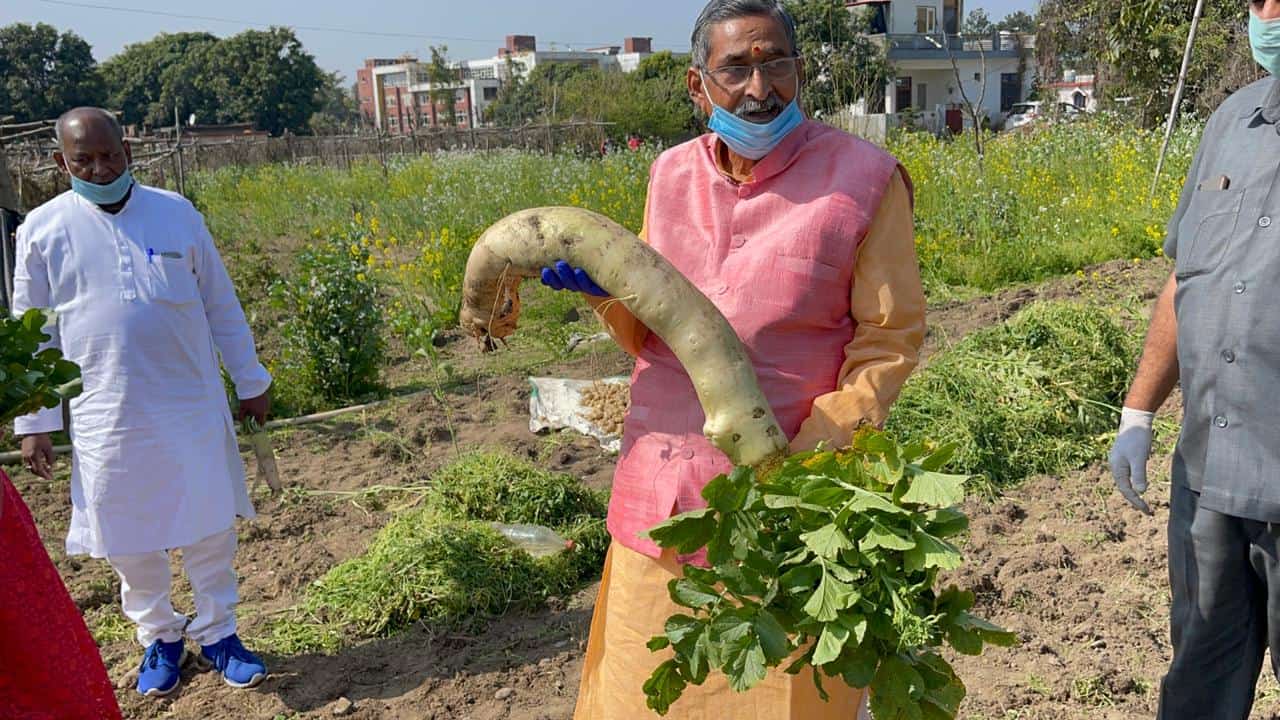 Today RK Sinha reached his Dehradun farm. Potatoes were being extracted from the potato field there. Everyone was busy with that. Walking in the field, Aditya Organic's director, Mrs. Ratna Sinha, noticed a giant radish hidden in the greenery. When extracted from this radish, it weighed 4.468. RK Sinha said that radish was naturally soft and tasty due to its chemical composition. Who says that production decreases in organic agriculture.to promote organic farming, RK Sinha, a former Rajya Sabha MP of BJP, always meets farmers and motivates them. First, he has started the work of organic farming under the campaign in many places.
He first started farming in Noida and Dehradun, starting from his village Bahiara. Let me tell you that the central government is also adopting natural methods to promote organic farming. Along with this, modern farming along with natural farming is also continuously working towards increasing income from farmers' farming. RK Sinha, popularly known as 'Organic Man', said that if anything is grown organically, goods will be sold at twice the normal price of the market.
He said that it has been the belief of Western agricultural scientists that there is nothing in the land, if you do not put it, nothing will happen. He rejected this notion and said that nature will help in the work done in a natural way. Farmers kill all the bacteria first by adding chemical fertilizer, those who survive to go 15 to 20 feet below the ground. People believe to make agriculture more fertile, urea is added and fertilizer is added. Rejecting this method outright, Mr. Sinha said that we should stop using chemical fertilizers and chemical pesticides and return to natural agriculture, then you will know how advanced and good our natural farming is.
A 5 kg radish has emerged from the Dehradun farm of former Rajya Sabha MP RK Sinha, known as Jeevik Man.